Andrew Bannister has won the prestigious Masonic Care WA/Freemasons WA Community Service and Volunteering Award at the 2021 7NEWS Young Achiever Awards and was presented onstage by MW Bro. Peter Kirwan, Grand Master of Freemasons WA.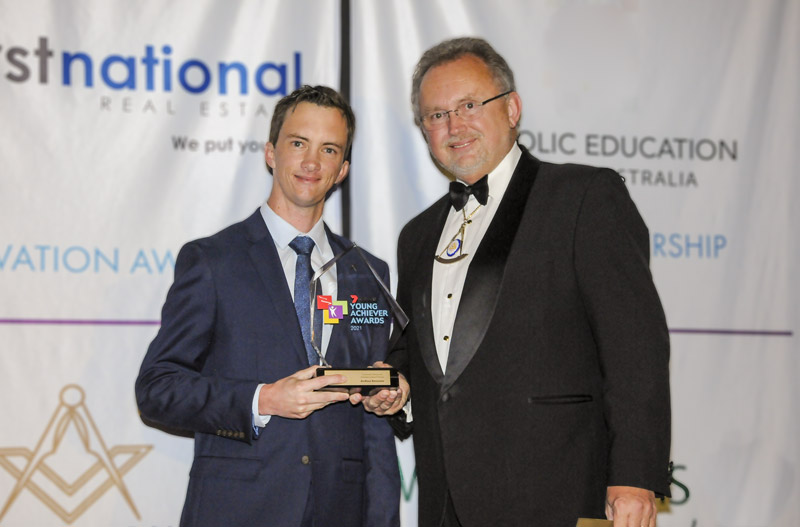 With hundreds of nominations, Andrew Bannister won the Award from a strong field of young achievers. We also congratulate and acknowledge the other finalists in this category:
Zahra Al Hilaly: Zahra helped establish the first Youth Recovery Framework for Covid-19, consulting young people on their thoughts for building a better WA post-COVID.
Jack Anderson: Jack founded ThrivED, where he brought together talented writers to author Year 12 textbooks and donated to students needing the same resource.
Layne Dixon: Layne is a marketing student at North Metropolitan TAFE who lives with Cerebral Palsy. She is a member of Cockburn Youth Advisory Collective, Youth Disability Advocacy Network and Cerebral Palsy Achieve.
The winners were announced on Saturday 29th May at Pan Pacific Perth, hosted by 7NEWS reporters Anna Hay and Rory Campbell.
Over 350 guests gathered from across the State including the official guest, the Hon Dave Kelly MLA, Minister for Youth; Water; Forestry to celebrate our high achievers.
"Andrew Bannister, 29 of Sorrento was born with rare brain malfunctions, including Periventricular Nodular Heterotopia (PVNH), but these have not stopped him from achieving many things. Inspired by the story of Ella, whose mother organised to light up the Perth Bell Tower in 2018 after Ella died of PVNH, Andrew decided that he would organise to light up more locations to bring awareness to the condition, and later, of all rare diseases. In 2020, Andrew organised 35 landmarks in Australia and around the world to be illuminated for Rare Disease Day in February. He has already organised for 50 landmarks to be illuminated for Rare Disease Day 2021."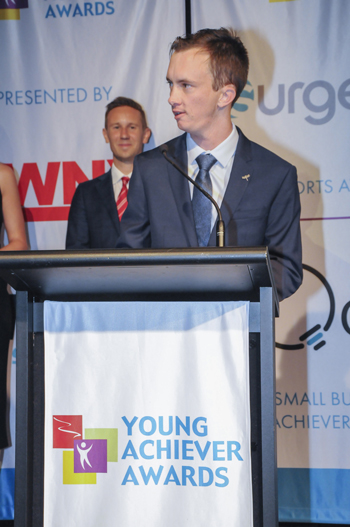 The nine category winners are:
Sophie Stewart, 26 of Burswood – Catholic Education Western Australia Young Leadership Award
Andrew Bannister, 29 of Sorrento – Masonic Care WA/Freemasons WA Community Service and Volunteering Award
Tegan Reder, 17 of Cloverdale – Surge Fitness Sports Award
Trevor Menmuir, 25 of Derby – RiverBank Estate Restaurant Health and Wellbeing Award
Hamish McKirdy, 26 of Salter Point – Elders Agricultural Achievement Award
Eldin Rostom, 26 of Salter Point – First National Real Estate Innovation Award
MAN UP, of Wembley Downs – Woolworths Youth Group Achievement Award
Kiya Watt Aboriginal Art of Albany – Qoin Small Business Achiever Award
Tom Wheeler, 25 of Newman – Awards Australia Regional Service Award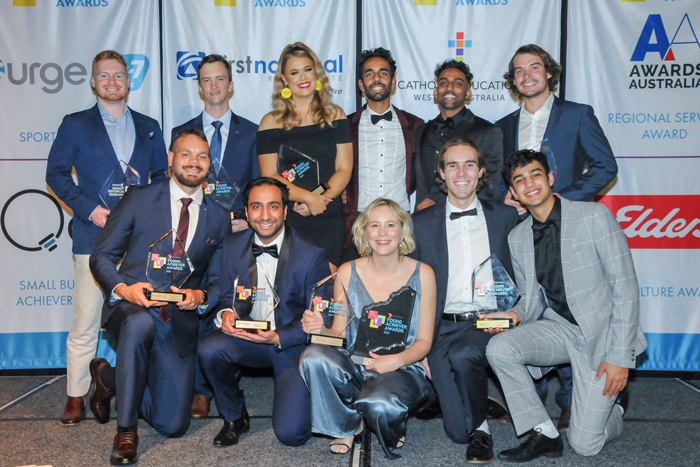 Sophie Stewart was later announced as the 2021 Western Australian Young Achiever of the Year.
Winners each received a magnificent trophy, $500 cash, $500 in Qoin, $500 Bartercard and a $500 Woolworths Gift Card. Sophie received an additional $500 cash, $500 in Qoin, $500 Bartercard, $500 Woolworths Gift Card and an amazing state trophy.
Andrew Bannister was also announced as the Catholic Education Western Australia People's Choice Award winner and received a $500 Visa gift card, courtesy of Catholic Education Western Australia.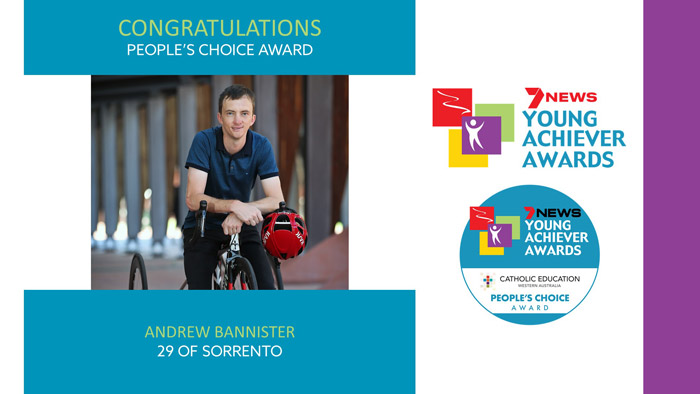 The Awards night was the culmination of a tremendously successful year with hundreds of nominations received from across Western Australia. For more information on the 7NEWS Young Achiever Awards WA, visit Awards Australia's website.